Serverless. State now included.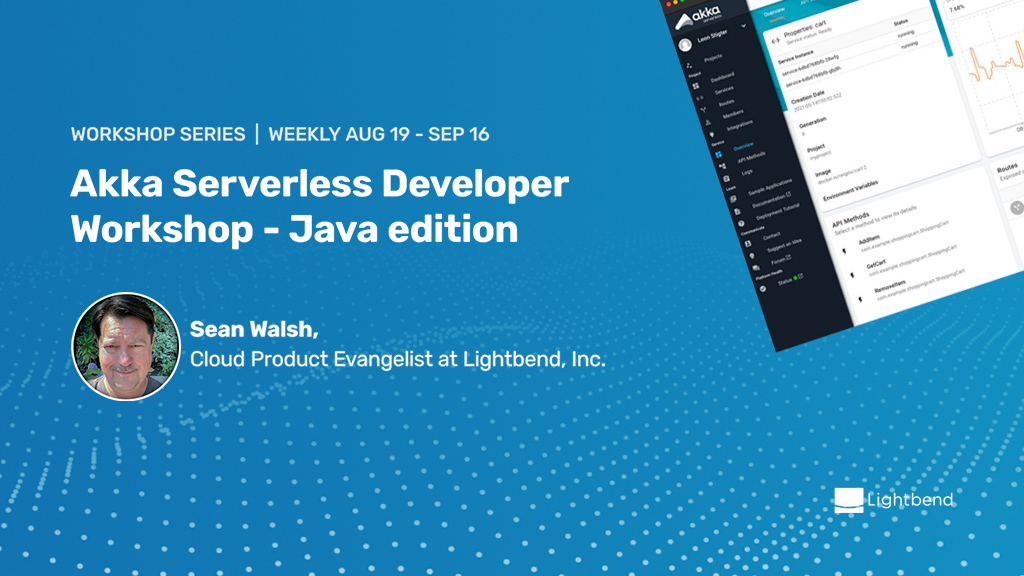 Serverless applications are rapidly gaining enterprise traction, yet truly mission-critical general purpose applications are not well served by stateless, Function-as-a-Service (FaaS) platforms.
Akka Serverless is the first and only developer platform that combines the scalability and ease of use of current serverless models with the responsiveness of fully stateful services into one managed, cloud-based environment. This lets developers save time and money, while reducing headaches like DB management and configuration.
This 5-part workshop series provides a guided tour of Akka Serverless in Java, and will focus on:
The WHY of Akka Serverless, and discovering our developer-focused features–like support for stateful and stateless services, and a hands-off approach to databases that takes care of all the management and configuration for you.
Working with the Akka Serverless development console and dashboard, and how to utilize the documentation and CLI effectively.
Testing and deploying various sample applications before building and releasing your own low-latency, high scalability stateful serverless Java application.
Workshops and dates (note: single registration includes all 5 parts):
August 19 - 8:00am PT / 11:00am ET / 17:00 CET
Part 1 (30-45 min) - Developer Set Up and Console Overview
August 26 - 8:00am PT / 11:00am ET / 17:00 CET
Part 2 (45-60 min) - Service Design and Code Kickstart
September 2 - 8:00am PT / 11:00am ET / 17:00 CET
Part 3 (45-60 min) - Stateful Service Integration, Pub/Sub, and Event Sourcing
September 9 - 8:00am PT / 11:00am ET / 17:00 CET
Part 4 (45-60 min) - Stateless Services and Actions
September 16 - 8:00am PT / 11:00am ET / 17:00 CET
Part 5 (45-60 min) - Containerization and Deployment
Prerequisites:
To get a head start, feel free to visit the Akka Serverless open beta registration page to set up your account.
Visit the Akka Serverless documentation to learn about the content we'll be covering in this workshop series.
Technologies required are JDK 8+ (JDK 11 is recommended), Apache Maven 3.6+, Docker 19.03+ (to run locally), and Linux, MacOS or Windows 10+.