THE BUSINESS CHALLENGE
Digital transformation requires enablement of Reactive development at scale
Now, more than ever, the knowledge and skills of your development team will directly impact the success of your business.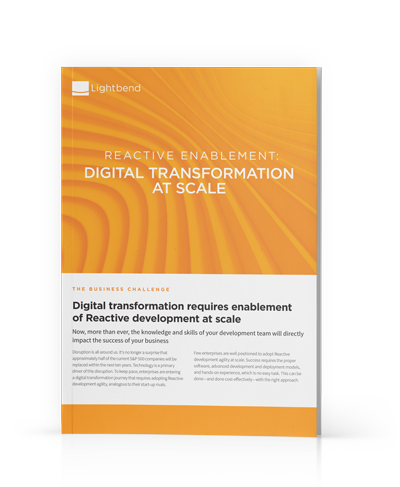 Disruption is all around us. It's no longer a surprise that approximately half of the current S&P 500 companies will be replaced within the next ten years. Technology is a primary driver of this disruption. To keep pace, enterprises are entering a digital transformation journey that requires adopting Reactive development agility, analogous to their start-up rivals.
Few enterprises are well positioned to adopt Reactive development agility at scale. Success requires the proper software, advanced development and deployment models, and hands-on experience, which is no easy task. This can be done—and done cost-effectively—with the right approach.
THE SOLUTION
Reactive Enablement: your force multiplier for development agility and enablement
Real projects and real-time mentorship are the keys to cementing knowledge and igniting your onboarding flywheel.
Lightbend ignited a developer movement in 2013 by publishing the Reactive Manifesto. Over the years, we have created hiring, training, and onboarding methodologies for development teams that have been tested and hardened through real-world implementations with some of the most admired brands around the globe.
We have bundled our know-how into a team enablement approach that blends Reactive conceptual principles and formal technical training with real-time Lightbend mentorship in business critical projects. This ensures developers internalize best practices and gain practical experience rapidly. As experienced developers roll off enablement projects and into your center of excellence they are replaced with new developers. The cycle repeats, allowing you to achieve enablement at scale, organically and cost-effectively.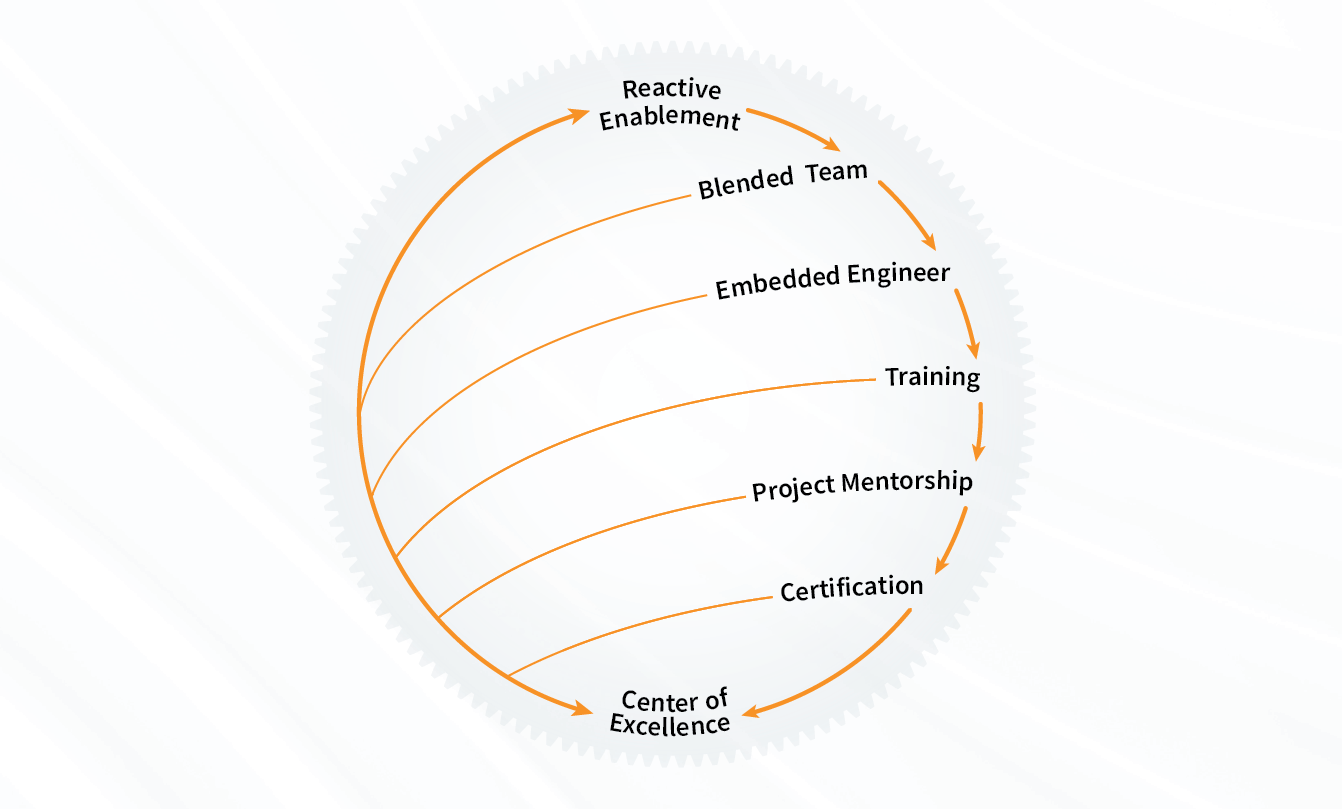 Blended Team: You and Lightbend
Blended Project Team. Together, we assess your team's readiness for their first enablement project. Practical exercises keep the team focused on success. Our Reactive Maturity Model guides the composition of your core team, three or four of your most talented engineers, a scrum master, and a product owner. Combined with two or three Lightbend engineers and an engagement manager, your enablement team is ready to go. A Developer Assist Subscription gives your enablement team direct access to the entire Lightbend organization.
ELE: Embedded Lightbend Engineer
Highly Effective Teams. Your Embedded Lightbend Engineer's mission is to make sure you succeed. Your ELE guides your team's technology choices, architecture, and implementation. Acting as a "tip of the spear" between your team and Lightbend Engineering, your ELE accelerates your Reactive project, drives speedy resolution to tough problems, and delivers unfettered access to the resources and knowledge of Lightbend.
Training: Reactive Principles
Lightbend Reactive Architecture. It is advantageous for all members of the team—including management, development, operations and product owners—to have an understanding of Reactive principles. This three-day course unifies vocabulary and builds a shared understanding of the design space, design constraints, and Reactive concepts to ensure the entire team is moving in a common direction on the project.
Training: Development and Operations
Lightbend Training Courses. Upon completing Lightbend Reactive Architecture, the team is ready to move from a conceptual understanding to hands-on training. Lightbend will design formal technical training paths for core practitioners who will be working with Reactive technologies on a daily basis. Paths are tailored for Development and Operations and can be delivered via Lightbend or certified partners and include self-paced, onsite, and train-the-trainer modalities.
Project Mentorship: Hands-on Experience
Lightbend Reactive Launch. Experience achieving a real project outcome is critical for cementing the skills gained in formal training. Lightbend works side-by-side with your team through pair programming, mob programming, and real-time mentorship from design all the way through to production rollout of an active development project. We are with you every step of the way with architectural, code, and milestone reviews. By collaborating on real-world projects for several weeks, we help you build an active community of practice within your development organization.
Certification: Advancement Pathways
Certified Reactive Architect. Your community of practice is further enhanced through certification. The Lightbend Certified Reactive Architect, based on the Lightbend Reactive Architecture training course, creates a pathway for advancement within your development organization and establishes your core team of Reactive go-to mentors.
Center of Excellence: Sustaining Enablement
Internal Luminaries and Leadership. After several iterations of working on high-performing Lightbend teams and gaining Reactive certification, your developers are ready to graduate from the team enablement program and join your internal center of excellence, thus forming the nucleus of new teams. The enablement cycle continues, and your onboarding flywheel builds momentum, breaking through the inertia of change and sustaining your enablement of hundreds and thousands of developers.
THE COMMUNITY ACTIVATION
Attracting and retaining top talent is a gating factor for digital transformation success
Raising your profile with internal and external developer communities is your fastest path to stimulating top-candidate pipelines while fostering long-term engagement.
Large enterprises and nimble start-ups alike are competing for developer mindshare. It makes good business sense to team with Lightbend to amplify your projects across the Reactive open source community and within your organization.
Lightbend works with you to launch integrated developer programs. Together, we raise your profile with developers that have voracious appetites for learning including junior developers, traditional Java programmers, experienced Scala technologists, and streaming data experts.
External Activation
Job Postings. To help you build your dream team, Lightbend posts your job openings on our website and promotes your positions through Lightbend webinars, LinkedIn articles, and tweets to amplify your reach.
Conferences, Meetups. Lightbend works with your developers and luminaries to define storylines, polish presentations, and recommend submissions for strategic speaking opportunities to raise your profile in the community.
Case Studies. Highlighting your dev culture and current projects with a case study is ideal for building your brand across the developer community.
Developer Q&As. To further amplify your story, Lightbend deconstructs your approved case into a Q&A article and pitches to journalists for publication.
Internal Activation
Luminary Panels. In this video conference panel discussion, you are joined by a Lightbend luminary to explore key industry trends with architects and developers across your enterprise. To facilitate a two-way dialog, capping attendance to 12 participants is recommended.
Luminary Webcasts. Similar to the panel, you are joined by a Lightbend luminary to explore key industry trends with internal architects and developers across your enterprise, establishing credibility and building excitement and recruits for your project.
Lunch and Learns. Internal lunch-and-learn meetups are efficient ways to spread excitement for your projects and Lightbend technologies. We team with your champion to identify a topic of interest and find the appropriate Lightbend luminary to deliver the learning.